How to look after yourself during COVID-19 self-isolation
So, we're in a pandemic. Turns out it's nothing like the thrilling disaster movies and it's actually a bit boring. Self-isolation, staying home, hearing the news all the time and not being able to get out to restaurants, Maccas, the skate park or the movies is a complete drag.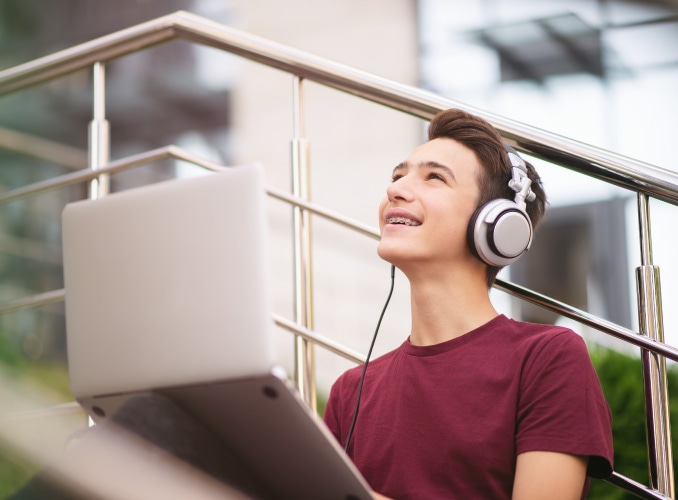 Coping with the COVID-19 pandemic might seem fairly easy right now but as we move forward, you could start feeling like you need a bit of extra support. That's completely normal and most people will start feeling anxious, worried, lonely, bored and a bit stir-crazy during this time. For some it might last a few hours, for others it might last a few days. Some people won't really experience any negative feelings at all. There's no right or wrong way to feel.
We have some tips on how to look after yourself until this whole crazy situation is over.
Keep communicating with your family
Being around family members 24/7 is not usual because of school, work and other activities. But since it's our way of life for now, it's important that you stick together and rely on each other for support.
Don't be afraid to approach your parents or guardians when you're feeling anxious or have questions. There is likely to be stress and worry but remember that it's not your fault. Maybe you can offer your help such as helping to cook dinner or tidying up.
Talk to your parents/guardians, grandparents and other relatives you trust to listen to you and help you through what you're feeling. Use Facetime or another video platform or just pick up the phone and call.
Allow yourself to feel how you're feeling. Recognise it and use the self-care suggestions offered below. If you feel you're struggling and nothing seems to be helping, you must speak to your parents and not let it get worse.
Stick to the facts
Ignorance is not always bliss. Sometimes we feel better when we're well informed. There's an awful lot of alarmist news out there, lots of media channels looking to cause panic and fear.
But you don't have to pay attention to that and you don't have to believe everything you read or hear. "Fake news" is not an exaggeration. Taking some time away from news and COVID-19 talk is a really healthy thing.
When you feel like you need to boost your knowledge, it's a good idea to stick to authoritative sources. The Australian Government Department of Health website is updated on a regular basis. Or, you could download the official government 'Coronavirus Australia' app:
It is available on the Apple App Store or Google Play, or you can join the WhatsApp channel on iOS or Android.
Self-care techniques
No matter what your age, you need to learn how to slow down, pay attention to your body and escape from the non-stop news and talk about COVID-19. Let's look at a few ways you can do that:
Physical exercise
Exercise, fresh air and a bit of sunshine make everyone feel better mentally and physically and of course, they're all good for you! Run around the yard with your dog or teach him new tricks. Kick a ball, set up a mini golf course or play with your cat with something that makes them scoot all over the house. Pull out the Wii and play one of the high energy games or check out 'P.E. with Joe' videos on YouTube.
Downtime
You also need a good chunk of downtime every day. That could be having a bubble bath, sitting and daydreaming in the sunshine or meditating. The Headspace app offers cool, enjoyable meditations for people of all ages. If you want to learn about mindfulness, The Mindful Hand Washing guide is pretty cool.
Try to have plenty of time in the day when you are not using electronic devices. Even a little boredom won't do you any harm as it can lead to creative ideas.
Device time
Maybe skip social media if it's full of alarmist news. Tik Tok is friendlier and you can use your creativity to come up with fun concepts that you can share with others. Otherwise, use your device to tap into some new music, watch funny videos, check out some tutorials, read an e-book or test your fitness. There are apps for everything these days!
Video chat family and friends. You can't be together so grab your favourite snack and enjoy it with someone you care about.
Be productive
Most people gain a huge sense of satisfaction out of being productive. This is a fantastic time to clean out your bedroom and rearrange your furniture. Fix your old bike or skateboard, get into a bit of gardening (plant some herbs or flowers), throw away old stuff you don't want anymore, clear your phone or computer files of photos, songs, videos and other space-wasting data. Try your hand at cooking or baking and the results will be worth the effort.
Schoolwork
Yep, school is a fact of life, even when you have to do your schoolwork from home. Try to stick to a school day routine, starting at 9am and finishing at 3pm. Have your morning tea and lunch around the same times as at school if you can.
Don't get lost in trying to fill time with homework regimes. Even though that's important, your emotional wellbeing is equally important. Get up and stretch, walk around, go outside for some fresh air and maybe call a friend and see how they're doing with their schoolwork.
Eat well
A healthy diet is important for feeling well and happy. Instead of snacking all day, stick to mealtimes. Eat plenty of fresh fruit and vegies, avoid too much junk food and stay hydrated. Set yourself a reminder to have a glass of water every hour. Don't be tempted to drink 'energy drinks' because not only can they be disastrous for your health, they are also inclined to cause a 'crash and burn' after the energy boost.
Sleep
Don't forget your quality sleep. At stressful times, sleep becomes even more important. If you find you can't 'switch off' at bedtime, the Headspace app can help. Or play your favourite quiet-time songs and set your timer to turn off the music after half an hour or an hour.
Do you feel like you need help?
Please help us by sharing this page
DONATE
Help us reach more young people
COVID-19 is a reality of life right now and as a community, we're all doing the best we can to adapt to measures that are aimed to keep us safe and well. How students are guided to deal with this pandemic now will help equip them with coping mechanisms, resilience and a positive outlook, tools that will be valuable throughout life. Australian Kookaburra Kids Foundation performs this role every day for young people from families experiencing mental illness.