Our online programs referred to as CONNECT, was born out of the COVID19 pandemic and the need for our young people to connect with others.
The connect programs has been developed with the intention of strengthening bonds between our young people before and between programs, to build safe and positive help-seeking behaviours, while increasing their sense of belonging and connectiveness.
How are the sessions run?
The sessions are "hosted" by AKKF staff and volunteers and are designed to be a fun, safe area where young people can express themselves in a supportive environment. Our connect sessions are interactive and follow a similar format as our activity days and camps; incorporating fun with leaning, they differ greatly from school online environments.
Connect sessions occur weekly and are arranged into the below age groups. Materials used throughout our connect program has been developed by our clinical team and are age appropriate.
Grade 3 – 4 Connect
Grade 5 – 6 Connect
Grade 7 – 8 Connect
Grade 9 – 12 Connect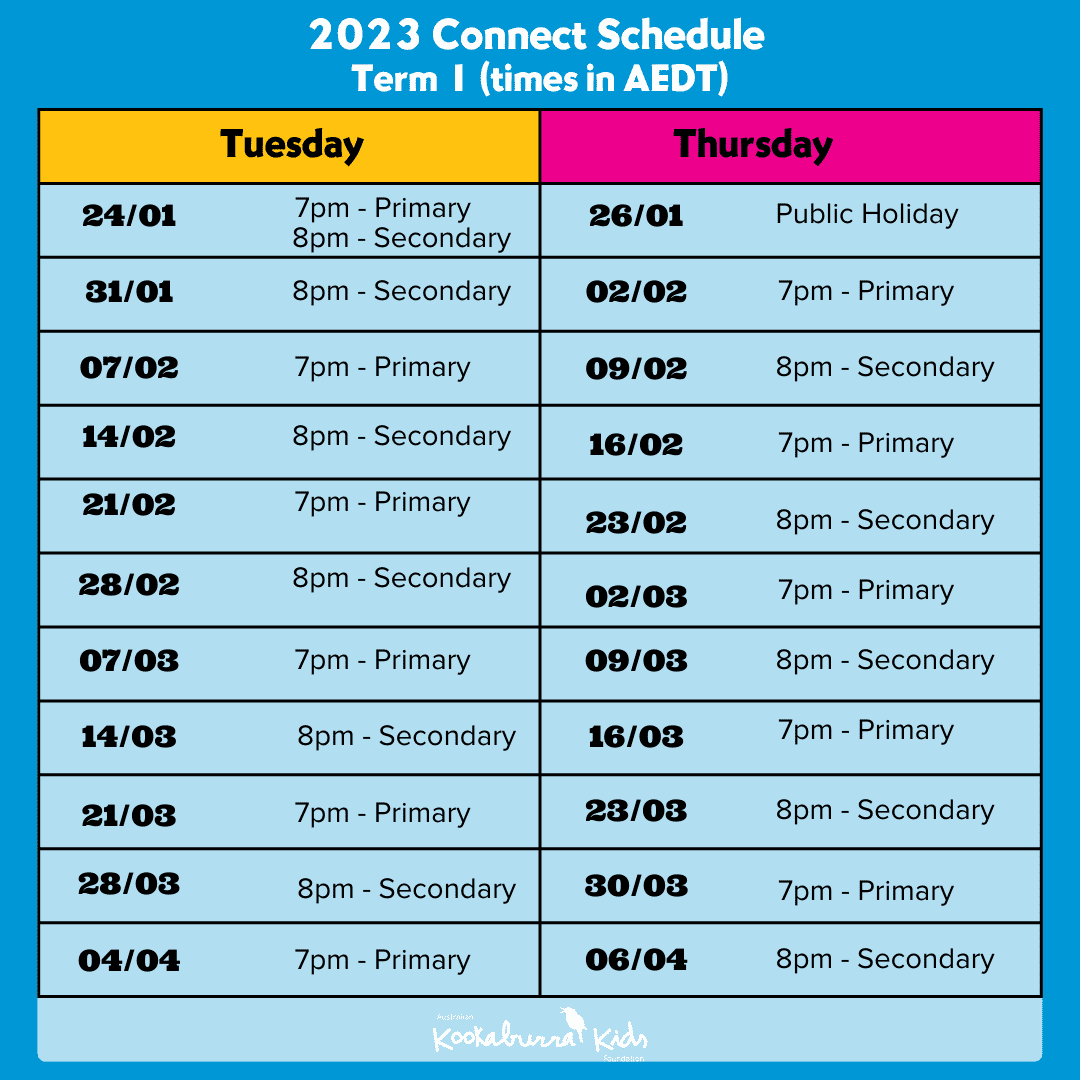 ONLINE SAFETY
All online connect programs are hosted by a minimum of 2x staff/volunteers to maintain a safe environment free from harm. No recording of connect sessions is allowed.
THE RIOT- Young Person Led Newspaper
The Riot is a newspaper is an initiative that has been led and created by AKKF young people. The RIOT provides our young people the opportunity to collaborate and share their experiences and ideas with the wider Kookaburra Kids community. The 'RIOT' team meeting monthly – everyone is welcome!
How to Join?
For existing Kookaburra Kids
If you're an existing member of the Kookaburra Kids program, you will receive an invite directly from us as the program rolls out across Australia.
To request entry directly, email connect@kookaburrakids.org.au or call 1300 566 525
For new Kookaburra Kids
To enrol a young person into the Kookaburra Kids program, please visit www.kookaburrakids.org.au/refer-a-child or alternatively call 1300 566 525.
For a downloadable flyer
To download an information flyer, please click here.